What to do in the event of an accident
Accidents happen – it really is as simple as that. They occur unexpectedly and they cause damage in so many ways. When an accident happens there are many things that can be done to help make the experience a little bit easier to deal with.
If you are involved in an accident you should do the following:
All parties involved in the accident should exchange names and addresses as well as insurance details
Make sure that the details of witnesses are obtained such as name and addresses
Make a note of street names, road markings, traffic signs and the width of the road or – if you can – take photographs. A sketch can help to indicate the positions of all those involved when the accident took place. This can assist should there be any dispute regarding who was at fault
ENSURE THAT YOU DO NOT ADMIT LIABILITY AND DO NOT OFFER TO RESOLVE THE CLAIM MADE BY A THIRD PARTY
If injury has occurred as a result of the accident the police should be notified
Following the accident
It is crucial that you ensure that your car can be driven after an accident, as it is possible that there could be hidden damage. Make sure that your lights work, and that there is no fluid leaking from your car. If you believe that your vehicle is not safe to operate, then give us a call on 01689 846520. We can arrange for our recovery vehicle to collect your vehicle from the scene.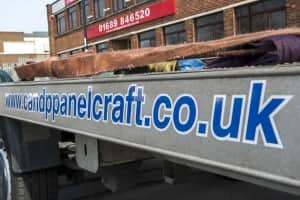 At C & P Panelcraft our help and advice is always available to you. We're an insurance approved accident repair centre who can help to repair your vehicle and get it back on the road. Contact us on 01689 846520 or email us at to commence your engagement with us.
Using our 'Request a quote' below, you can upload images and send them to us, allowing our staff to assess damage caused to your vehicle.
It is always worth bearing in mind that you always have a choice. This means that you can choose who carries out the repairs to your vehicle. It is common for insurers to recommend that you use one of the 'approved' repairers. It is crucial to remember that the decision is yours and not theirs.
Insurers may suggest that there could be delays and increased costs if you do not follow their suggestions. You have a right to choose a repairer that works best for you. Do not feel forced into using their recommended repairer and remember that you pay your insurance premiums for a reason – the choice is yours.