Breathe easy – car air conditioning repair and recharge services provided by C & P Panelcraft, Croydon
If you are looking for a professional car air conditioning service then here at C&P Panelcraft in Croydon, we are the ones for you. We work to manufacturer standards and use genuine manufacturer parts so you can be sure that your vehicle receives the right care.
Air conditioning servicing
During the summer, air conditioning is a complete must-have. Staying cool in the car keeps you safe and focused on the road. However, air conditioning is extremely handy during the winter months too as it can help to de-mist windows. This highlights the importance of having an air conditioning system that operates correctly during the whole year. At C & P Panelcraft we recommend that you have your air conditioning system checked at least every two years.
R134a
R134a is a CFC-free product with a zero ozone damage potential, but as a greenhouse gas it is considered to be environmentally unfriendly.
R1234yf is a new HFO refrigerant developed to replace R134a, the objective being to reduce greenhouse emissions.
Vehicle manufacturers have been using R1234yf in their vehicles since mid- 2016. The use of this environmentally-friendly refrigerant in car air conditioning systems will substantially reduce greenhouse gas emissions.
C&P Panelcraft are able to re-gas and service both R134a and R1234yf systems. Our new Konfort 770S service station for R1234yf gas has been included in the ADI Design Index as an example of excellent Italian design, and the machine is recommended by the leading vehicle manufacturers.
Having us check your air conditioning is a simple process that takes no time at all. Once completed, your air conditioning system will work perfectly for you when you need it.
When should I get my air conditioning system recharged?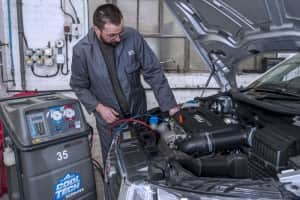 We recommend having your air conditioning system recharged every two years. If you believe there could be a problem with your air conditioning then having it checked as soon as possible will help to avoid bigger problems. If the gas pressure decreases then the system will lack efficiency which means your engine will have to work harder. This in turn leads to an increase in fuel consumption.
We have technicians who are trained in all air conditioning systems. They will be able to advise you and show you how it should be working. A car air conditioning recharge will help your vehicle to run more efficiently. This will take the strain off the engine and prolong the life of your vehicle.
If you want to speak to us for advice regarding your air conditioning system or if you would like us to service it then please get in touch with us.
Give us a call on 01689 846520 or email us at bodyshop@candppanelcraft.co.uk and we will be more than happy to help.