Bumper repairs provided by C & P Panelcraft of Croydon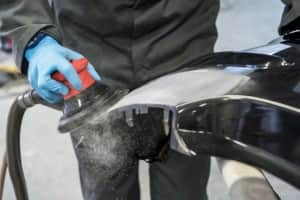 At C & P Panelcraft we want our customers to feel appreciated. We understand that taking your vehicle to a garage for bumper repairs can be inconvenient at the best of times. To solve this problem we have created a service that operates efficiently and professionally. We are a family-run business and have been operating in Croydon since 1978, our experienced accredited Vehicle Damage Assessors are trained to manufacturer standards as this ensures an expert opinion every time. Your vehicle will benefit from genuine parts, so you can rely on us.
Bumpers are there to serve a purpose
Bumpers are there to serve a purpose, but they can still suffer from damage. If your vehicle has been involved in an accident then our bumper repair service can help. When you bring your vehicle to us we can carry out the repairs and return it to you on the same day if at all possible.
A complete bumper repair service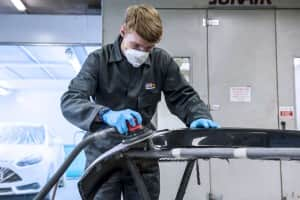 Our experienced team of technicians can deal with your bumper damage using the latest repair methods. This will involve removing the bumper, carrying out the repair and re-spraying it. Regardless of the make and model of car we can take care of it for you. We have our own high-tech paint-mixing equipment that guarantees a stunning finish due to its ability to create over 16,000 shades. A showroom finish is guaranteed every time.
No more dents
Following an accident your car will be left with dents and scratches that will not only look unsightly but will de-value your vehicle. Using our first class bumper repair services will guarantee that we can re-shape your vehicle back to its original look.  Following this process, we will carry out a respray that will leave your car looking as good as new.
Depending on the damage, we may decide that paint-less dent removal is the preferred option, but before any work is carried out we always discuss the options with our customers with the goal of giving you the best and most cost effective solution.
Our technicians are on hand to answer all queries. For a free, no-obligation estimate give us a call on 01689 846520 or email us at .