We are a specialist car bodyshop and accident repair centre in Croydon, with the skills and equipment needed to repair bodywork to the very highest standards. We have been working with Maseratis for more than 40 years now, and our trained technicians use state-of-the-art equipment to provide a superb finish for prestige vehicles. During all repairs, we use genuine parts and conform to manufacturer's methods.
C&P Panelcraft offer insurance repairs, private repair work, and end of lease services. We're here to make sure the process is stress free, providing an unrivalled customer experience and looking after your vehicle throughout its time in our workshop. We're approved by major insurance companies, so it's quick and simple to book your vehicle in for a repair with us.
Want to talk to us about repair work to your vehicle? Call 01689 846520 or email bodyshop@candppanelcraft.co.uk.
A LEADING WORKSHOP FOR MASERATI REPAIRS
We continually invest in technology and this is an important part of our business, giving us the tools and equipment we need to work on prestige vehicles such as Maseratis. Stand-out equipment that we own includes:
Advanced diagnostic machines
Specialist welding equipment
Low-bake paint ovens
Wheel alignment ramps
We have a recovery truck available to collect vehicles if required. There's a comfortable reception area at our premises where you're welcome to wait during SMART repairs.
Got a question? Call 01689 846520 or email bodyshop@candppanelcraft.co.uk.
Get your free,
no-obligation quotation
Request your free, no-obligation quote. You can upload documents online to give us key information.
MASERATI REPAIR WORK
We work on Maseratis in our state-of-the-art workshop, from the stunning Levante to the Quattroporte – we'll make sure your vehicle is in optimum condition when it leaves our premises. Core services include:
Many of these repairs can be carried out using our 'small to medium area repair technique', or SMART. This is a service available while you wait, for private repair work. We can swiftly repair dents, chips and minor damage with this service.
WHY CHOOSE C&P PANELCRAFT FOR MASERATI REPAIRS?
Lifetime of ownership guarantee on workmanship
Commitment to quality
Insurance approved repairers
BSI Kitemark approved
High-tech vehicle workshop
Unrivalled customer service
This is what happens when you choose C&P Panelcraft to look after your vehicle during a longer-term accident repair:
1
We log all your details
and discuss courtesy cars if needed.
2
Our accredited vehicle damage assessors provide an estimated date of completion.
We inform the insurance company where relevant.
3
Repairs are authorised
and we order any Maserati parts that we need.
4
The repair is completed
and components are reassembled.
5
Quality control
final checks are completed.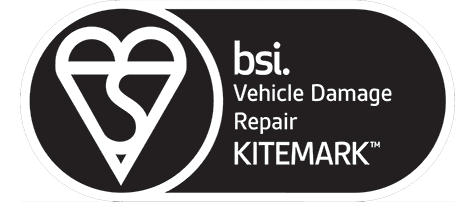 BSI Kitemark™-approved
bodyshop
We're proud to be a BSI Kitemark-approved bodyshop, an accreditation that's recognised industry wide, including by automotive manufacturers. This means we're counted amongst the most forward-thinking bodyshops in the UK, leading the way in our industry. This is the criteria we've met to achieve this:
We follow correct processes for repairs
Staff are trained and competent
The right tools and equipment are used
Parts are appropriate and safe
Quality control procedures are in place
Remember, it's never up to your insurance company where your vehicle is repaired. As the vehicle owner, this is your decision to make. You can stay in control of quality by choosing a leading bodyshop like C&P Panelcraft.
See what our customers have to say about us.
Get in touch
Contact C&P Panelcraft – fill in our form and we'll be in touch shortly to discuss your vehicle.