WINDSCREEN REPAIR AND REPLACEMENT
We can repair and replace windscreens in our specialist on-site bodyshop, dealing with minor chips and damage quickly or installing new glass following an accident. Our specialist accredited damage assessors will be able to tell you what's best for your windscreen, and offer you advice on insurance as well – most insurance policies have glass cover separate to your normal accident cover. Using this can mean paying a lower excess and avoid affecting your no claims bonus.
C&P Panelcraft is a family-run business, offering the best possible customer service as a top priority. We've been in business since 1978 and we take pride in our long-standing reputation, ensuring that every customer has a stress-free experience when dealing with us. We'll make sure your windscreen repair is efficient, cost effective and expertly carried out.
C&P Panelcraft: approved repairers
We are a BSI Kitemark™-accredited repair centre, marking us out as one of the leading providers of car body repairs in the UK.
This is the criteria we've met to gain this accreditation:
C&P Panelcraft are proud to be a BSI Kitemark™-approved bodyshop. This accreditation is recognised by automotive manufacturers and insurance companies, and it shows that we've been categorised as one of the most forward-thinking bodyshops in the UK, committed to carrying out work to the highest standards. In order to gain this accreditation we're regularly inspected to prove that:
We follow correct repair processes
Staff are trained and competent
Tools and equipment are all suitable and appropriate
Car parts are appropriate for safe repairs
We follow quality control procedures
Get your free,
no-obligation quotation
Request your free, no-obligation quote. You can upload documents online to give us key information.
A windscreen repair will often be the most cost-effective and practical solution for chips and minor damage. We use resin for the repair, which seals the chip and bonds the glass to restore its strength. These are some of the most commonly seen types of windscreen damage, that can easily be repaired by us: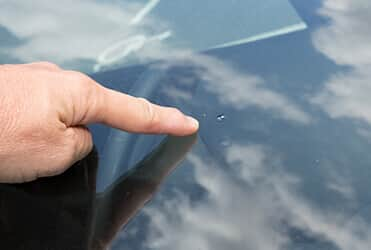 WINDSCREENS CHIPS.
These are small blemishes on the windscreen, usually caused by a hard object hitting it. Small pieces of glass are chipped away.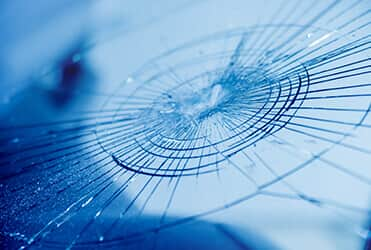 BULLSEYE.
Taking their name from a dartboard, bullseye cracks are circular in shape. They usually occur when a rock or hard object hits the windscreen.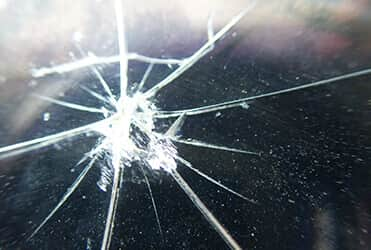 STAR BREAKS.
Sometimes small cracks will form around the centre of the impact, leading away from it in a star-like formation.
If you notice any type of damage to your windscreen, it's important you bring your vehicle in as soon as possible. Minor damage can easily turn into major damage, meaning a longer and more costly repair. Bear in mind that windscreen damage can make the vehicle unroadworthy when it's classed as being in a dangerous condition, and even a minor chip can obscure your vision when driving.
Want to ask our advice on a window chip? Call 01689 846520 or email bodyshop@candppanelcraft.co.uk.
If the damage is more significant, the windscreen might need to be replaced in full.
This is often the case if:
A chip is obscuring the driver's line of sight by more than 10mm
Circular damage is bigger than a £2 coin
The chip is too close to the edge of the windscreen
If your car contains advanced driver assistance systems, or ADAS, these will need to be recalibrated following the installation of a new windscreen. This is to make sure the radar is working correctly – we can carry out a full ADAS reset and complete a health check to make sure it's performing as it should be.
Why choose C&P Panelcraft for windscreen repair and replacement?
Commitment to quality
Insurance approved repairers
BSI Kitemark approved
High-tech vehicle workshop
Unrivalled customer service
See what our customers have to say about us.
Get in touch
Contact C&P Panelcraft – fill in our form and we'll be in touch shortly to discuss your vehicle.