As a leading car bodyshop and crash repair centre in Croydon, we've established an excellent reputation for ourselves. We have been repairing Range Rovers in our workshop for more than 40 years, and we're often the chosen bodyshop in the area for customers with high value or prestige vehicles. With the latest diagnostic equipment and tools available, we can offer repairs to customers who are claiming through insurance, private vehicle owners, or those needing end of lease services. We're approved by major insurance companies so it's easy to book in with us.
We've been in business since 1978, during which time we've become well known in the Croydon area. People remember the high quality of our repairs, as well as our friendly demeanour and excellent customer service. We know it's never easy when your vehicle needs a repair, so we'll ensure the whole process is stress free.
Want to talk to us about repair work to your vehicle? Call 01689 846520 or email bodyshop@candppanelcraft.co.uk.
High-tech vehicle
workshop
We will have the required equipment to carry out car body repairs in any circumstance, whether the damage is minor or more significant. Our Croydon-based workshop is complete with the latest technology and specialist equipment for carrying out bodywork, including:
Advanced diagnostic equipment
Specialist welding equipment
Low-bake paint ovens
We also have specialist equipment for carrying out repairs to other parts of your vehicle, including wheel alignment ramps and ADAS calibration hardware. We have a recovery truck available to collect vehicles if required, and a comfortable reception area for our customers.
Got a question? Call 01689 846520 or email bodyshop@candppanelcraft.co.uk.
Get your free,
no-obligation quotation
Request your free, no-obligation quote. You can upload documents online to give us key information.
PORSCHE REPAIR WORK
We are approved to carry out repairs by major insurance companies, so it's easy to book in with us. Our main services include:
If you're a private customer (that is, you're not claiming through insurance), we can offer our 'small to medium area repair technique', or SMART. These repairs can be completed quickly – while you wait if preferred. We have a comfortable reception area for you to use.
WHY CHOOSE C&P PANELCRAFT FOR PORSCHE REPAIRS?
Lifetime of ownership guarantee on workmanship
Commitment to quality
Insurance approved repairers
BSI Kitemark approved
High-tech vehicle workshop
Unrivalled customer service
If your Porsche is booked in for a longer accidental damage repair, or you're dealing with an insurance claim, here's what you can expect:
1
Details are logged and we'll arrange a courtesy car if applicable.
We'll use your details to stay in touch and keep you informed.
2
An accredited vehicle damage assessor estimates the date of completion.
We'll inform your insurance company if required.
3
Repairs are authorised and we order parts.
We always used genuine parts when working on your Porsche.
4
The repair work is completed and components are reassembled.
After a repair, we finish the process by washing and vacuuming your vehicle.
Quality control checks are completed throughout the process, ensuring the repair meets our high in-house standards.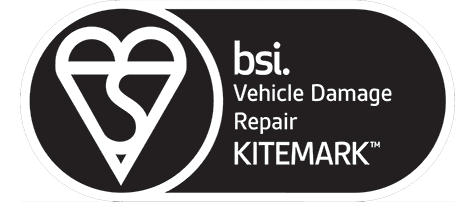 BSI Kitemark™-approved
bodyshop
Our BSI Kitemark approval shows we're one of the most forward-thinking car bodyshops in the UK. We have to meet strict criteria in order to gain this approval:
Correct repair procedures must be in place
Staff must be trained and competent
Safe, appropriate parts have to be used
Quality control needs to be in place
If you're an insurance customer, please be aware that you can choose any bodyshop you like to carry out your vehicle repair. It's not up to the insurance company – it's up to you. Why not choose a leading bodyshop like C&P Panelcraft, offering a higher quality service?
See what our customers have to say about us.
Get in touch
Contact C&P Panelcraft – fill in our form and we'll be in touch shortly to discuss your vehicle.