Car chipped or scuffed? Then C&P Panelcraft of Croydon can repair it for you
If your vehicle is suffering from unsightly chips or scuffs we can help. We have been operational in Croydon since 1978 and this experience has helped us to recognise the needs of each individual customer. Our staff are trained to be the best, and we have latest equipment which guarantees a perfect job every time.
Our spacious premises make it possible for us to work on a large number of vehicles simultaneously. It also benefits our customers because it means we can work efficiently – returning your vehicle to you in no time at all. From accredited vehicle damage assessors to highly-skilled technicians and genuine manufacturer parts – our services are the very best.
Repairing chips and scuffs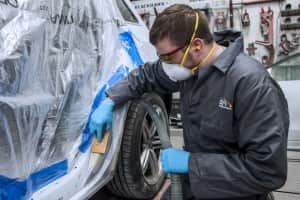 A chip, scratch or scuff will damage the aesthetics of your vehicle and it will also cause the value of your car to reduce.
At C & P Panelcraft we believe we have the perfect service that removes the need of older methods often employed by less well-equipped body shops. Our 'SMART Repair' service is quick and aims to save our customers time and money. One of the main priorities of our SMART Repair service is to carry out repairs rather than replace. This removes the need for expensive repairs for what could simply be minor paint damage.
In many cases our SMART service is the best choice because most of the work is completed on the same day. This speedy service maintains our high standards without compromising on the quality of the finish.
If you are looking for car scratch repair service in Croydon then we are here for you. Our repair work is versatile and with our ability to repair all panels on your car, you can be sure we can meet your needs.
The technology used for spray jobs has evolved and so have we. We have trained our technicians so they have the ability to use the latest methods and systems. All of this results in the highest quality repair work possible.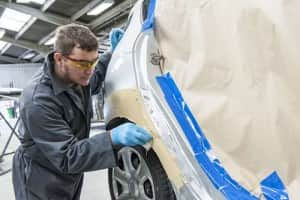 We can repair the following damage:
Bumper scuffs
Damage to wing mirror casing
Chips and scratches to paint
Damage to panels
Cracks
If you believe that your vehicle would benefit from chip and scuff repair work, please get in touch with us. We cover all aspects of paint work ranging from cosmetic touch-ups to major paint repairs. Using high-tech equipment, our repairs offer a simple solution to your problems.
For more information, give us a call on 01689 846520 or email us at