Painless windscreen repairs and replacements provided by C & P Panelcraft, Croydon
Come to C & P Panelcraft in Croydon for your car window repairs or replacement. We can repair minor damage to your windscreen, taking it back to its original strength. Making a claim for a replacement screen on your insurance can affect your no claims bonus and this could prove costly in the long run. Avoid this by dealing with minor damage as soon as possible. We can easily and quickly repair bulls-eyes, chips and star breaks.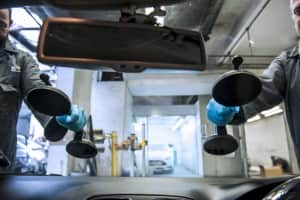 Your windscreen is a crucial part of your vehicle and it can be damaged easily. Loose debris on the road can lead to chips and cracks that cause weaknesses in your windscreen. This means minor damage can quickly result in a more costly job. A damaged windscreen can reduce your vision, making your vehicle dangerous and un-roadworthy. There are many regulations in place that govern whether a damaged windscreen can result in an MOT failure.
We have glass technicians on site who know exactly how to repair or replace your windscreen. Their experience enables them to make the right decisions and to advise you in the right way.
Should you repair or replace your windscreen?
We want to save you money. If we can repair your windscreen and save you money rest assured we will. However, if your windscreen is beyond repair we will replace it with our guarantee of excellent workmanship.
Our windscreen repair service is both efficient and clever. It removes the need for replacing windscreens, which otherwise would have been the only option in recent years. We use a special resin that repairs chips and cracks, completely restoring your windscreen. This seals the chip and bonds the glass which means you no longer have to worry.
It is important to tackle windscreen problems quickly and relying on us is a great place to start.
Side windows
Should your side window become damaged by a collision or an attempted theft it is often not possible to repair. Side windows are created using a different method to windscreens, which means a small chip may well require a complete replacement.
If you require a side window replacement then we can help and you can be assured of competitive prices.
If your vehicle has a windscreen or side window that requires repair or replacement then we are here for you.
To find out more contact us on 01689 846520 or email us at .