Wheel Alignment in Croydon by C&P Panelcraft
Wheel alignment services provided by C & P Panelcraft, Croydon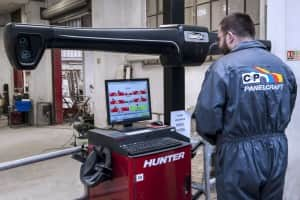 Your wheels can become misaligned when they are driven over potholes and speed bumps. The slightest knock can put your wheels out of alignment which means that your tyres become susceptible to uneven wear. It can also cause your vehicle to pull to one side which can be extremely dangerous. Your vehicle will use more fuel and your tyres will wear out swiftly resulting in an increase in costs. It is not as simple as looking at the wheels to find out if they are out of alignment – specialist equipment is needed.
 This is where our four wheel alignment service can really help, we are based in Croydon and have been here since 1978, so if you are looking for a wheel alignment service in Croydon then please choose C&P Panelcraft.
Our wheel alignment service works by precisely calculating the alignment problem, which then enables us to rectify it. This is an important part of maintaining the health and safety of your vehicle.
From a safety perspective, wheels that are misaligned can affect the handling making the car unsafe to drive.
Are your wheels correctly aligned?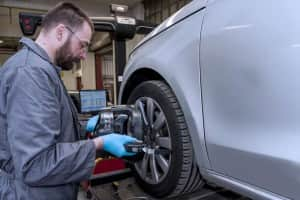 Our four wheel alignment service can help solve handling problems. When your wheels are correctly aligned it makes for a more enjoyable driving experience. By dealing with issues as soon as possible it will means that you save money in the long run. You will avoid having to replace tyres earlier and you will save fuel, which all helps to lower the cost of running your vehicle.
We believe in making things simple for our customers. Our service is efficient and accessible but we also like our customers to understand everything that we do. As part of our wheel alignment service we produce a report that is visually clear so you can easily see the results of our work.
We can also create a video of the complete assessment that can be emailed to you. All of this information becomes extremely useful when it comes to selling your vehicle. It proves that you have taken care of it and carried out regular checks.
For a complete wheel alignment service that comes with care and attention to detail come to C & P Panelcraft. For more information or to book your vehicle in with us give us a call on 01689 846520 or email us at .